Shirley Collins
Charleston Garden and Hay Barn, Lewes.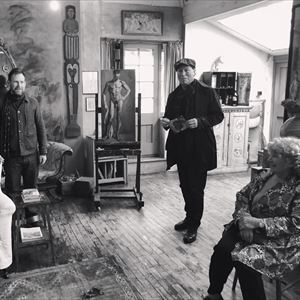 Melting Vinyl and Charleston are pleased these shows with Shirley Collins and the Lodestar Band, visual artist, and musician Matthew Shaw, and poet Brian Catling at Charleston have new dates in 2021. We are very grateful to the artists and to the ticket holders for their continuing understanding and patience as we work to bring this innovative and unique show to you.
Tickets will remain valid for the rescheduled dates 31st July (replacing the 18th July) and 1st August 2021, (replacing the 19th July) all the other event details remain the same. We look forward to seeing you next year at Charleston with the exquisite backdrop of the South Downs
Please refer to the Facebook pages for up to date information: 31st July: https://www.facebook.com/events/3734561633228622/ 1st August: https://www.facebook.com/events/503061690624615/
14+ only. 14s to 15s must be accompanied by an adult. No refunds will be given for incorrectly booked tickets.
More information about Shirley Collins tickets
Melting Vinyl presents
Please be aware the gardens can accommodate only a limited capacity. Those wishing to promenade the grounds may experience a wait to allow the previous group to exit the gardens.
Tickets holders will also be able to visit the Charleston gallery and the Café will be serving food and drink before the performance.

"Never are voices so beautiful as when dusk almost hides the body, and they seem to issue from nothingness with a note of intimacy seldom heard by day." Virginia Woolf 'Night and Day'
Shirley Collins | Brian Catling | Matthew Shaw
Shirley Collins' powerfully haunting seventh album 'Lodestar', released in 2018, was a reawakening of one of folk music's most important voices. Now the journey continues as Shirley Collins makes a pilgrimage to the heart of the landscape that fuels her work. Performing together again with the Lodestar band, Shirley sings songs of love and songs of the land in this most beautiful and extraordinary of places - Charleston.
The home of the Bloomsbury Group which included some of the twentieth century's most pioneering artists, writers and thinkers - people who rejected the status quo and imagined new ways of living and working, Charleston sits at the foot of the Sussex Downs. The hand decorated interiors and artists' garden are more than a museum, it continues to be a place of creativity and debate hosting a year round programme of exhibitions, festivals and events featuring leading contemporary artists, writers, performers and thinkers.
Shirley Collins, in collaboration with long-time friend, artist, writer and performer Brian Catling, and acclaimed sound artist Matthew Shaw together present CROWLINK, an immersive soundscape and site-specific performance in the grounds at Charleston. Original poetry by Catling and traditional songs from Collins are interwoven with field recordings from Matthew Shaw.
You are invited to wind your way through the gardens and lose yourself in a landscape of song and voice.
Conjured from that most startlingly original imagination, CROWLINK culminates in a performance by Catling in response to the intense creativity of the place.
'Shirley is a time traveller, a conduit for essential human aches, one of the greatest artists who ever lived, and yet utterly humble' Stewart Lee
'A performance of unwavering and revelatory intimacy' Guardian *****