Pictish Trail + Special Guests
The Hope & Ruin, Brighton.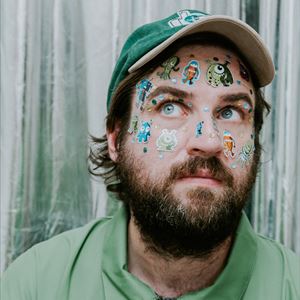 Melting Vinyl are stoked to bring psyche-pop oddball Pictish Trail to Brighton's Hope & Ruin.
A heads up on the Pictish Trail tour which is being moved to 2022
Like a giant leap into the future, Johnny is moving his whole tour to next year and purchased tickets will remain valid for the rescheduled Brighton date of Sunday 27th March 2022. All the other event details remain the same.
For future updated info please go to our FB event page for this show:
Here's a word from the man himself:
'If you've purchased tickets for any of these shows I would kindly ask that you don't ask for a refund. You should wait and see how my band and my show is! No, I mean, I'd like you all to come to the rescheduled dates!'
This event is for 18 and over - No refunds will be issued for under 18s.
More information about Pictish Trail + Special Guests tickets
Throughout his career Pictish Trail - aka Johnny Lynch - has resolutely furrowed his own path, steadily creating a unique catalogue of recordings and performances through his own labels (Lost Map / Fence Records) while eschewing the blueprint of the predictable singer-songwriter in favour of something untidily intriguing.

Born out of a compulsion to make infectious, melody driven music from a treasure trove of secret sounds, Pictish Trail's spectral songs are filtered through a sun-warped pop lens, where heart-pumping guitar shriek-outs collide with sampled gurgles and fractured lyrics figure-skate over sine- waves of glacial synth.

Something of a sonic hermit, Pictish Trail spent a good few years tucked away in his caravan on the Hebridean Isle of Eigg, feverishly working on the follow up to Secret Soundz Vol. 1 & 2, his critically- acclaimed double album of DIY electronic folk-tinged croft pop, released in 2014.

A mesmerising psychedelic opus about death and the after-life, Future Echoes won the public vote for Scottish

Album of the Year in 2017, and sent Pictish on an two-year tour cycle - including international tour dates supporting Belle and Sebastian, British Sea Power, Malcolm Middleton and KT Tunstall, as well as appearances at Glastonbury, Field Day, Green Man, Deer Shed, Skye Live, not to mention his own legendary Howlin' Fling! week-ender on Eigg.

Following the release of a deluxe edition of Future Echoes by esteemed London tastemakers, Fire Records, in 2018, Pictish is currently working on brand new material due for release in 2019.

Savage Mansion

One of the most exciting new bands in Scotland, Glasgow indie-rock group Savage Mansion will be joining Lost Map label mate Pictish Trail as main support for the March/April tour.

Formed in 2016 the band quickly drew attention for high energy live shows and Craig's melodic and eloquent slices of guitar rock. Since the release of their 2019 debut album 'Revision Ballads', Savage Mansion, the child of singer-songwriter and guitarist Craig Angus, have drawn comparisons from the Velvet Underground's no-fi swagger to Pavement's easy sing-speak vocals and R.E.M.'s shimmering guitar tones.

Joined by Andrew Macpherson and Jamie Dubber (Catholic Action), Lewis Orr (Martha Ffion, Space Rocket Garage Band) and Taylor Stewart (Romeo Taylor), their sophomore album ?Weird Country' was released on April 3rd 2020 with the first single ?Karaoke' receiving first play on the Vic Galloway show for BBC Radio Scotland.

'Weird Country' sees Savage Mansion in evolution, and whilst the band's early releases invited favourable comparisons to Parquet Courts and Courtney Barnett, the new material is fleshed out with shimmering vintage synths, drunken bar band piano and harmonies Teenage Fanclub would be proud of.

Having completed their first headline UK tour and played their first European shows in 2019, Savage Mansion are just getting started. They may just be your new favourite band.

'Wonderfully jubilant' - Goldflakepaint

'Grubby, loud and loose rock'n'roll' - The Skinny

'Potent power pop and dreamy fuzz'' - The List

Fruity Water

Fruity Water are a psychedelic electro-pop two piece who merge a number of different styles of electronic music into their sound.

Their DIY debut album ?Thirst Takes' was released in 2018 and got a great reception. ?Singles Rules' and ?Wasted Summer' both received multiple spins on BBC 6 Music from the likes of Steve Lamacq, Radcliffe and Maconie and Gideon Coe.

The duo have played a number of festivals and gigs around the country following the release including Lunar Festival. They have supported some great acts such as AK/DK, Willie J Healy, sir Was, as well as curating an all-dayer gig for the Alternative Great Escape at the Black Dove.

June 2020 saw the release of their follow up album ?Fuzzy Orange' which contains a stronger dance and party energy than their dreamy debut. Bringing together styles such as acid house, rave, deep house, goth within their dreamy electro pop songs. The tracks are more upbeat and deeper than ?Thirst Takes'. They are currently organising a tour of the country and a press/radio campaign to coincide around the album release. In their hometown of Brighton they run their own regular live electronic club night called ?Midnight Salad' as well as a DIY record label named 'Big Salad'.

'I love this' - Mark Radcliffe

'I'll definitely be playing that again' - Gideon Coe

'Sounds different, fresh and stimulating' - Brighton's Finest