Melting Vinyl Presents...Tunng + Special Guests
St Luke's Church, Brighton, BN2 9ZB.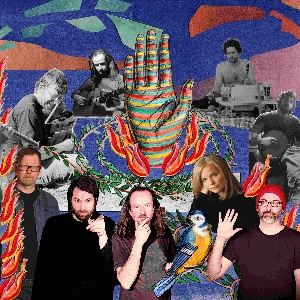 Melting Vinyl have the pleasure of inviting the inspiring Tunng to a beautiful and apt setting of St Luke's Church, Brighton following the release of their extraordinary multimedia project Dead Club which explores themes of death and inspired by Max Porter's novel 'Grief is a Thing with Feathers'.
Death was a subject that had long fascinated Tunng's Sam Genders; a preoccupation not born out of the macabre so much as a curiosity about the fundamental purpose of existence but also a hesitancy he had noticed around others' grief; a wish to be supportive in the right way, to say the right thing in the face of loss. having read widely on the subject he discovered Porters novel and passed it around the band.
For months the six band members Genders, Lindsay, Jacobs, Ashley Bates, Phil Winter, Martin Smith discussed the subject at length.Because the subject of death is so powerful for people in different ways, we talked about the kinds of issues it might bring up, that we might need to be sensitive about. When it then came to actually writing and recording, the process proved startlingly easy.
It is an extraordinary record. Contemplative, intimate, celebratory. It includes collaborations with Max Porter, who wrote two new pieces for the album plus a zine of lyrics and interview transcripts to accompany the record and a series of podcasts produced by Becky Jacobs and Sam Genders, with album artwork by Lilias Buchanan and animations by Sam Steer.
0+ only. Under 15s must be accompanied by an adult. No refunds will be given for incorrectly booked tickets.