Melting Vinyl Presents...Group Listening
The Rosehill Tavern, Brighton.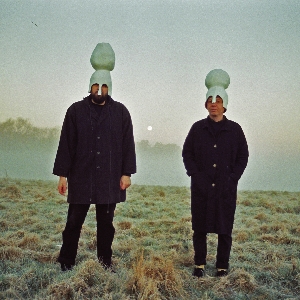 Good to have Group Listening back after a sonic performance at Lewes Psychedelic Festival.
Group Listening are Paul Jones [piano] and Stephen Black [clarinet]. Their new album 'Clarinet and Piano: Selected Works, Vol.2' will be released on PRAH Recordings in January 2022.
PRAH Recordings is pleased to announce the first new music from meditative heavy hitters Group Listening who have been working on a follow up to their stunning debut. Group Listening's first album, Clarinet and Piano: Selected Works, Vol.1, was a haunting, reflective and lovingly considered selection box of musical reworkings. It featured reimagined tracks by the likes of Arthur Russell, Brian Eno and Robert Wyatt. But it was also much more than that. In making their own record of reimagined musical works, the two musicians were doing what all music fans do: comparing favourite tracks, turning each piece over for new meaning and developing a musical understanding of each other in the process.
Fast forward a couple of years, and with a remix album of Vol.1, a 2 featuring a reworked version of the Fatima Yamaha club staple What's A Girl To Do?, a radically re- composed remix for Lambchop and an EP of re-arranged works from Cate Le Bon's LP, Reward under their belt (who Stephen performs with as well as Gruff Rhys, also he is A.K.A. Sweet Baboo), the duo started Clarinet and Piano: Selected Works, Vol.2 from an altogether different vantage point. ?We've done a lot more together now and so have developed certain ways of working. Because these processes have become norms, it's spurred us on to push things a bit further and to avoid repeating ourselves? they say.
As a result the overall tone is thought provoking and engagingly unique, retaining an air of abstraction that permits the mind to wander, wonder and dream. The pieces are presented as points of stimulus, ports from which to embark on a journey towards other musical landscapes. The pair are constantly seeking to subvert the minimalism of their sonic palette, creating a subtle but constant tension that every now and then catalyses' the music to somewhere unexpected. Take their bright arrangement of Laraaji's All Of A Sudden, and the addition of a drum machine that adds a sprightly propulsive edge; or their take of Niger synth pioneer Mamman Sani's 500 Miles, which brings into focus the original's psychedelic queasiness through the use of old answerphone messages and environmental noises, even as the instrumentation behind it is stripped right down.
It's in the way that Group Listening are able to prod, probe and contort the self-defined parameters that they've set themselves that makes Clarinet and Piano: Selected Works Vol.2 such an intriguing listen - and it's the love and care they've taken over it that makes these versions entirely their own.
Exquisite neo-classical work" Electronic Sound Review
"These are the artists and artworks the world needs....they have produced something golden" Louder Than War
'Canonical ambient works sublimely re-arranged" **** MOJO
'It's too easy to talk about how immersive ambient music is, but experiencing Group Listening live is an immersive experience.. the music is practically otherworldly Metronome
Absolutely beautiful' Tom Ravenscroft, BBC Radio 6 Music
Meditative, isn't it -- I just love the way it circles, it's exquisite on every level very wonderful! Adam Walton, BBC Radio Wales
Keep an eye on the Facebook event site for up to date details:
https://www.facebook.com/events/4915120301912357/
--
This event is for 18 and over - No refunds will be issued for under 18s.