EZRA FURMAN + SPECIAL GUESTS
St George's Church, Brighton, BN2 1ED.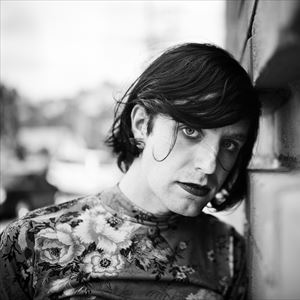 A New Date for Ezra Furman: Thursday 27th May 2021
Working to safeguard performers, audience, venues and their staff alike Melting Vinyl are delighted to announce this sold out show with electrifying American singer-songwriter Ezra Furman at St George's Church, Brighton has been rescheduled.
Tickets already purchased will remain valid for the rescheduled date & all other event details remain the same.
Please keep an eye on our Facebook event page for latest details.: https://www.facebook.com/events/2620411131380172/
Many thanks for your continuing support and we look forward to seeing you there! Here's a personal message from Ezra: 'We are rescheduling our planned 2020 shows in Europe for all of our health and safety. The urge to passionately gather is strong as ever but we'll have to wait a while--hopefully the suspense will just sweeten the eventual release of being together.'
14+ only. 14s to 15s must be accompanied by an adult. No refunds will be given for incorrectly booked tickets.
More information about EZRA FURMAN + SPECIAL GUESTS tickets
Melting Vinyl are bouncing about in their Doc Martens with excitement to welcome back uncompromising American singer-songwriter Ezra Furman to Brighton and the glorious setting of St George's Church in May 2021.

Following the 2019 success of the fifth solo album and third on Bella Union 'Twelve Nudes', we are blessed Ezra Furman will be playing in Brighton as part of the UK leg of an extensive live 2021 tour.

Bridging the gap between love, gender, sexuality and religion, and singing in solidarity with the persecuted and oppressed, Ezra Furman sound-tracks the current zeitgeist across the western world like no other, while pushing ahead with an ever evolving agenda.

"I'm a shy person whose very presence has become a confrontation," Furman said in a recent interview, and 'Twelve Nudes' certainly feels like Ezra is embracing and channeling that confrontation into something with altering power.

While still rooted in Rock 'n' Roll, 'Twelve Nudes' encompasses the more raw elements of Furman's literary take on garage-punk, and there is the sense of the kind of brash nihilism and fury which The Ramones or The MC5 conjured - even the backing band have become nameless for this record. Yet amongst the existential howl the record finds it's emotional beating heart in the song ' I Wanna Be Your Girlfriend'

"The record is political," says Furman, "but it offers an emotional reaction rather than being specific or partisan."

And this is the key to Ezra Furman, a progressive whirlwind with a compassionate heart casting a new note over classic templates to make noise for the marginalised and bring about change.

"12 Nudes is the harshest record he has made, but the melodies are still indelible, the hooks still exhilarating. It's the sound of someone exploding. A Gloriously angry punk album" The Guardian

https://www.facebook.com/events/2620411131380172/