Chrystabell & Special Guests
Komedia Studio, Brighton.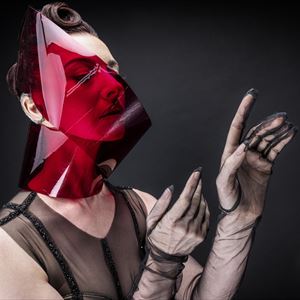 From Chrystabell

My Dearest Diamond Raindrops, I have an important announcement and

I feel it will be met with compassion in these uncertain times. Due to covid, conditions for my planned February & March UK/EU tour spanning 10 countries are not present to safely present the show that I want so much to give you. I have made the very difficult choice to postpone the tour. Let us be relentlessly resilient and see it as?building suspense. I am endlessly thankful for your patience, understanding, love & support. I will be serenading you as you listen to Midnight Star and when the show does happen, the experience will be that much more precious for all of us. Yours, Chrystabell

Note: The original tickets will be valid for the rescheduled date, keep in touch with your point of purchase for an update.
Recording artist, actress and muse to director David Lynch, ethereal songstress Chrystabell has headlined sold out tours across the globe over the last decade and is coming to Brighton next February via the Komedia Studio.
Having released five critically acclaimed albums, Chrystabell is a captivating presence both on record and onstage, her hypnotically seductive voice and striking visual presentation have won her an ever expanding army of devoted fans. A starring role as FBI agent Tammy Peterson in Lynch's 2017 revival of Twin Peaks only served to confirm the scope of her considerable talents. Time Magazine called it "the show of the decade." Her fifth studio album Midnight Star finds her ambitions soaring, with the songs crafting a riveting and conceptual narrative around humanity's harrowing, failing relationship with this planet Earth. The guitars and drums have also been replaced by synths (a highlight is her astonishing cover of the Psychedelic Furs classic "Love My Way"), marking a fascinating shift in her creative vision - and making for a truly unparalleled modern pop record.
"A singer and voice of almost unearthly beauty." - Vogue
Keep an eye on the Facebook event site for up to date details:
https://www.facebook.com/events/231529635578726/
14+ only. 14s to 15s must be accompanied by an adult. No refunds will be given for incorrectly booked tickets.
More information about Chrystabell & Special Guests tickets
Chrystabell
Recording artist, actress and muse to director David Lynch, ethereal songstress Chrystabell has headlined sold out tours across the globe over the last decade and is coming to Brighton next June via the Komedia Studio.
Having released five critically acclaimed albums, Chrystabell is a captivating presence both on record and onstage, her hypnotically seductive voice and striking visual presentation have won her an ever expanding army of devoted fans. A starring role as FBI agent Tammy Peterson in Lynch's 2017 revival of Twin Peaks only served to confirm the scope of her considerable talents. Time Magazine called it "the show of the decade." Her fifth studio album Midnight Star finds her ambitions soaring, with the songs crafting a riveting and conceptual narrative around humanity's harrowing, failing relationship with this planet Earth. The guitars and drums have also been replaced by synths (a highlight is her astonishing cover of the Psychedelic Furs classic "Love My Way"), marking a fascinating shift in her creative vision - and making for a truly unparalleled modern pop record.
"A singer and voice of almost unearthly beauty. " - Vogue