Alex Rex
The Greys, Brighton.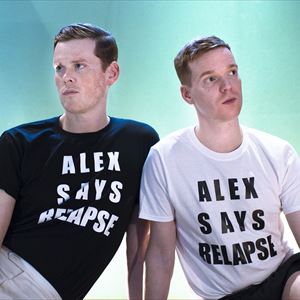 A New Date for Alex Rex Monday 15th March 2021 Melting Vinyl are excited to announce this new date for our show with the spellbinding Alex Rex times. We are working to safeguard performers, audience, our venues and their staff and we are thrilled to have a new date for this show Tickets already purchased will remain valid for the rescheduled date and all other event details remain the same. Please visit the Facebook event page for updates and further details: shorturl.at/grsv3 Here is a personal word from the artist: ?Alex Rex are delighted to announce their rescheduled date at The Greys to promote their new album "The Infernal World of Alex Rex" out in Feb 2021 on Neolithic Records - the perfect blend of sleaze and smarts for these troubled times'
This event is for 18 and over - No refunds will be issued for under 18s.
More information about Alex Rex tickets
Melting Vinyl have the privilege to welcome Alex Rex back to the South Coast and the perfect intimate setting of The Westgate Chapel in Lewes.

Founding member and chief songwriter of critically acclaimed folk revivalists Trembling Bells, Alex Rex is the nom de guerre of Alex Neilson - drummer to some of the most innovative musicians on the international underground, including Bonnie "Prince" Billy, Shirley Collins, Jandek and Current 93. Alex has synthesised the agonised self-invention and charismatic death-drive of these artists into his solo vehicle - abandoning the folk-rock pomp of his previous band Trembling Bells for something darker and wilder.

Following the critical success of his second solo album Otterburn (2019) which was a heartfelt response to his brothers sudden death on 2017 Alex Rex returns with songs of love, loss and loathing in his third vehicle ANDROMEDA on independent label Tin Angel

ANDROMEDA is a game of emotional snakes and ladders. It's the product of two years spent in therapy, the gym and on Tinder. It opens with the voice of folk legend Shirley Collins in "Song of Self Doubt" - a sparse assemblage of spoken words layered on bright chimes and birdsong. And from there we wander down corridors of cruelty, recklessness and recrimination.

"I Am Happy" is a gut-punch to the brain. Think classic-era Nick Cave but without the gothic posturing. "Haunted House" is a ghost-rock ballad about an emotional poltergeist looking for love. "Rottweilers" is a song about the hell hounds of the mind - the phantoms of self-deception and self-destruction that impress themselves on the brain like a depressed Mount Rushmore. "Coward's Song" sets some lines from Richard III to a skeletal country waltz and was recently recorded by Bonnie "Prince" Billy. "I'm Not Hurting No More" sounds like poetry etched out by a pneumatic drill in an electrical storm, while album closer "Pass The Mask" is about the anxiety of childbearing by someone who has never borne a child - passing the relay baton of disappointment from generation to generation. It's Philip Larkin's head on Cat Stephen's body.

Featuring a consolidated line up of long-time collaborator Rory Haye, with Audrey Bizouerne (Rev Magnetic / Bill Wells) and Georgia Seddon (Mike Heron / The Incredible String Band) along with guest appearances from Shirley Collins and Stevie Jackson, ANDROMEDA is the first ghost rock album. Self loathing has never sounded so sexy.

Victor Herrero gives true meaning to the proverbial figure of the troubadour. Through the medium of voice and his beautiful Spanish guitar playing he channels shades of Leonard Cohen, Fred Neil and #VictorJara.
His album 'Hermana' is an expansive paean to all the sisters who stand by our side, who care for us and from whom we learn from.
Check out the title track for 'Hermana' here: https://bit.ly/2Wf8q9Y

https://www.facebook.com/events/1881054732041227/